Yoast SEO for WordPress Guide
In this Yoast SEO for WordPress guide we'll explain the benefits of the Yoast plugin. Providing a step by step guide on how to navigate it's most commonly used features. Yoast SEO is the number one SEO plugin for WordPress. Helping you optimise your websites pages to drive more traffic from Google and other search engines. As well as increasing your websites overall engagement.
Here at Primal Space we're huge advocates for this plugin and have been using it and recommending it to clients for many years as part of our SEO service. Before we get started with this tutorial, let's take a look at what Yoast is in a bit more detail.
Benefits of The Yoast SEO Plugin
Yoast SEO makes the complicated task of search engine optimisation more accessible. Regardless of your skill level the plugin helps you optimise your websites pages using a traffic light system. Indicating how well your page is performing based on your content. While providing useful hints and tips on how to improve your page score. Not only for SEO but also for your pages readability. It scans the page and takes account of things like image alt tags relating to the subject of the page. As well as headings and meta description. While also providing a preview of how your page will feature in Google search.
The fact that it's free and easy to use should not be overlooked. Even high end developers like ourselves. With years of experience successfully helping clients reach that coveted top position on Google use the Yoast SEO plugin. Considering it a core element within our SEO tool kit. Who can deny the satisfaction of improving your page score from mediocre to great, with the alert of those green lights. There are paid versions available of this plugin but for a single site the free version is enough to get you started.
Before working on SEO for your site it would be helpful if you completed an SEO audit. Allowing you to understand the key words that your web pages are currently targeting. Then enabling you to create a plan for moving forward. We've created a helpful post explaining how to complete an SEO audit on your own website that will guide you through this process.
Yoast SEO For Beginners
If your website was built by Primal Space then you'll already have Yoast SEO for WordPress editor installed and ready to use. However if your website was built by another developer you may need to install the plugin to your WordPress admin area.
You'll know that Yoast is set up and good to go as there will be a Yoast icon visible on the dashboard. This is located towards the middle of the black header bar at the top of your admin area. As well as this, the Yoast editor will be showing on the individual pages of your site, just below your pages content editor.
There are many features of the Yoast SEO editor, but today in this post we'll focus on the most commonly used features to get you up and running with the software. If your page or post has existing content then Yoast SEO dashboard will likely be displaying a range of colours. These will either be red, orange or green. The colours form a simple traffic light system that makes it easy to focus your intention on the areas for improvement. Red means this area needs work, orange means you're on the right track and green means you've successfully completed the task. When you've completed enough tasks as green then the overall page score will change to reflect this and will be visible at the top of the page.
Yoast Google Preview
One of the elements of the Yoast SEO analysis is the Google preview. This accounts for a large portion of the page score. Adding this content to your sites pages, ensures they are displayed accurately in search engines. While positively representing your business or organisation. The Google preview can be viewed in both desktop and mobile formats. A quick win for moving towards a green page ranking, without having to overhaul any of your existing content.
The Google preview takes into account the SEO title, Slug, meta description and also the featured image for the page. These should be added to every page of your site. Something to note for both the SEO title and meta description is to ensure the length of text remains green. As this indicates the preferred word count to ensure all of your text is visible on search engines. You might find this challenging when beginning this process, but it's important. Highlighting the fact that the information you are providing is concise and relevant to the topic you're indexing for. So definitely worth mastering these points.
A good example of what you should be working towards is what we've created for this post. You can see in the below screenshot that it has a green ranking using the Yoast traffic light scoring system.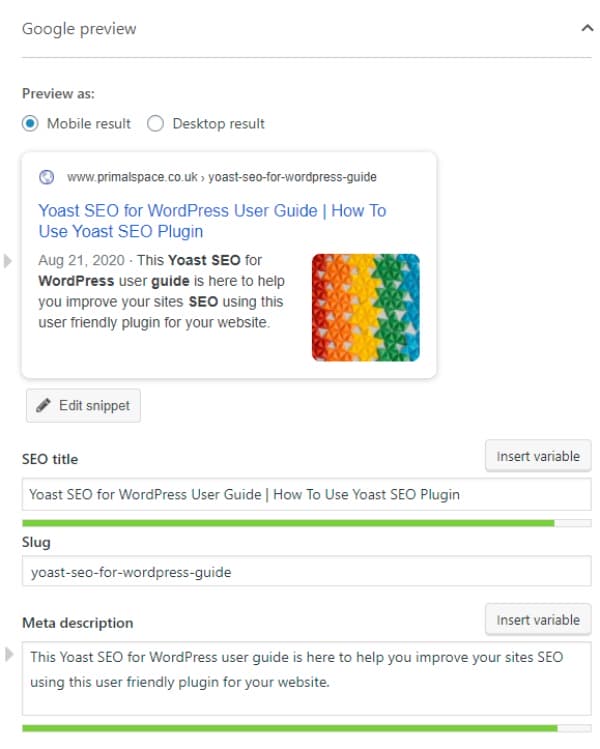 Yoast SEO Analysis
There are two areas that we focus on with this Yoast editor. The first is the SEO analysis which takes into account things like internal links to other pages of the site, key phrase distribution throughout the post and meta description. As well as image alt attributes, text length and if the key phrase is part of the page title. The SEO analysis makes it easy to learn how to improve each of these points by linking to individual guides on the Yoast SEO website. You can also learn more about the SEO analysis and how it works.
To get started you'll add your phrase that you want the page to index for into the box titled 'focus key phrase' at the top of the Yoast SEO editor. Once you've done this the suggestions for improvement will start to appear. For example, here is a before of this page and the suggestions that Yoast has recommended we make to improve it's overall score.
Before
You can now see the screenshot below and the change to the colours after we've done some optimisation. Using the improvements suggested by the Yoast SEO for WordPress editor as a guide. Our overall page score for SEO on this post is now green.
After
Yoast SEO Readability Analysis
Another really cool feature we'll outline in this Yoast SEO for WordPress guide is the readability analysis. Optimising the content on the page making it easier to read by a mass audience. Google also takes into account the readability of content as part of their SEO rankings. So it's important to give consideration to this.
Consider the Yoast readability analysis as your own personal proof reader. Helping you pin point areas for improvement within your page or blog post that have room for improvement. Here are some examples of areas that we improved on for this post.
Before
Not only does it take into consideration how easy to read your page is based on Flesch reading tests but also things like the paragraph and sentence length. As well as the use of transition words and whether or not you've began consecutive sentences with the same word. All of these features improve the user experience when navigating your site.
An important part of conversion for your site is keeping users on there. While also having them engage with the content with ease. Therefore the readability analysis helps play an important part. Alongside the overall design and development of your website. A great feature of the readability analysis is the 'eye' icon. Used to highlight areas in the page text editor where you can improve. In this case the sentences that are too long and the ones that sound overly passive.
We've now shortened our sentences and made our content within the post less passive and more active. You can see that we now have a green page score overall for both Yoast SEO analysis and readability analysis. If praise motivates you then the smiley faces will be extremely satisfying!
After
Yoast SEO for Blog Writing
Although you may not be updating your websites pages regularly, you can still greatly benefit from Yoast SEO when creating engaging blog content. Many of our clients benefit from the easy to navigate traffic light system of Yoast. Keeping them on track when creating blog posts that attract their ideal customers through digital marketing and search engine optimisation. By following the guidelines outlined in this post you're more likely to write content that converts.
You can learn more about our best practices for writing blog posts in this helpful guide on our website.
Using the Yoast Editor to Improve Your SEO
We hope you've found this Yoast SEO for WordPress guide helpful. Familiarising yourself with the most commonly used features. Be sure to follow the links to the Yoast website throughout this post for more in-depth explanations. You can also use this guided tutorial on the Yoast website for further exploration of the plugin and to learn about more advanced techniques.
Primal Space offer SEO services to a diverse range of clients. Helping them improve their websites traffic through search engine optimisation. If you'd like to find out more about SEO pricing or our SEO services in particular then please get in touch. We'd be happy to discuss your requirements and provide an action plan for you to move forward.
Did you find this post helpful? Why not check out our WordPress user guide for more helpful hints and tips for navigating the admin area of your website.