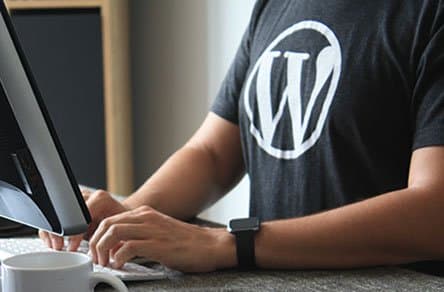 What Are The Differences Between WordPress.com and WordPress.org?
WordPress is one of the most widely used platforms globally for website building. When you're new to the world of website design, it can be very easy to confuse WordPress.com with WordPress.org and believe it's the same thing, just with a slightly different domain name. However the two sites and the services they actually provide a very different. It's extremely important to understand these differences from the outset. Therefore allowing you to make the right decision, on which platform best suits the needs of your business.
In this blog post we'll outline the fundamental differences between each of these services. Allowing you to make an informed decision on the best option for you.
What is WordPress.com?
This version of WordPress is hosted and similar to the likes of Wix and Squarespace. Essentially you pay an annual subscription to reap the rewards of a self built website. The costs vary depending on the level of storage your website requires and can cost anywhere from $48 per year for a single page site to over $540 per year for a more complex e-commerce build.
The benefit of a WordPress.com site is that anyone can create a website with minimal input from a web developer. There are free options however these allow for advertising to feature on your websites pages which will likely detract from your own content and will be unrelated to your brand. You would need to subscribe to a paid service to remove these ads and to benefit from more complex features.
The greatest downside to a WordPress.com site is that should you wish to move away from the platform you'll have no access to back-end code, database or files from your website. For this reason alone we would steer clients away from opting for a WordPress.com website build. However, alongside this, we have found this platform to be incredibly limiting as no plugin or theme uploads are allowed. While Google Analytics is also unable to be installed, preventing you from tracking your site's marketing reach and conversions. As a result, preventing you from being able to track the overall performance of your website online.
WordPress.com is ok for someone looking to dabble in building their own website as a hobby, however, for a business looking for growth, it may result in more of a hindrance. Particularly in the long term as you're unable to move your content away from this platform which can be extremely limiting.
What is WordPress.org?
WordPress.org  on the other hand is the downloadable version of the WordPress software and is used by website developers. Attracted by its freedom and flexibility as well as its highly customisable features. Giving us free rein to make beautiful, incredibly creative website designs. While providing you, the client with complete control over the content of your website.
What do you need to get started? Simply a domain name for your website as well as a WordPress website hosting plan. If you're working with us here at Primal Space we can provide you with a package which includes both of these options for a low-cost monthly fee. Our hosting offers core, plugin and security updates, ensuring your site is supported and maintained to run efficiently. Get in touch with us to find out more about this service.
Did we mention it's completely free? There are no annual charges for a WordPress.org website and no tacky adverts distracting your users away from your website content. All the while supporting a diverse range of plugins allowing your site to grow organically as your business does.
In many instances, a WordPress.org website can be much more profitable for your business from the outset. You may wish to start with a simple single-page design when you're first starting out. Which then upgrades to a multi-page site once you start to see a return on your initial investment. Finally growing to incorporate WooCommerce functionality for your retail leg of business.
WordPress.org supports your company from infancy right through to the more elaborate growth of your organisation over time. While allowing you to monitor and track your business growth through Google Analytics and custom software and plugins.
Which Platform Should I Choose?
You should now have a clear understanding of the differences between WordPress.com and WordPress.org and be able to make a decision on which is the best for you.
At Primal Space, we always recommend that our clients opt for WordPress.org. This is the CMS platform that we work with and is the one where we are able to develop your website. Not only does it give more options in terms of design and functionality. Whether that be through the use of plugins or custom code to customise your design as you wish. It also allows you to have full database access to all of your site's content forevermore.
At Primal Space we also offer our clients managed website hosting, ensuring your site is housed on solid foundations.
Contact us today to discuss the next steps in moving forward with your website design project.