Adding New Users to the WordPress Admin Area
Our clients regularly ask as about adding new users to the WordPress admin area. So we thought we'd put together this helpful step by step guide explaining how it's done within your admin dashboard.
It's really easy, and a great way to familiarise yourself with the admin area of your website.
A Guide to Adding New Users to WordPress
Firstly you'll need to be logged into the dashboard. Once you're logged into the backend of your site you'll see the menu to the left of the page. About half way down you'll see 'Users.'
Click here, this will open the area that we'll be working in. Next click on the 'Add New' button at the top of the page that has just opened. Again this will open a new page with a blank form. It will look like the one below.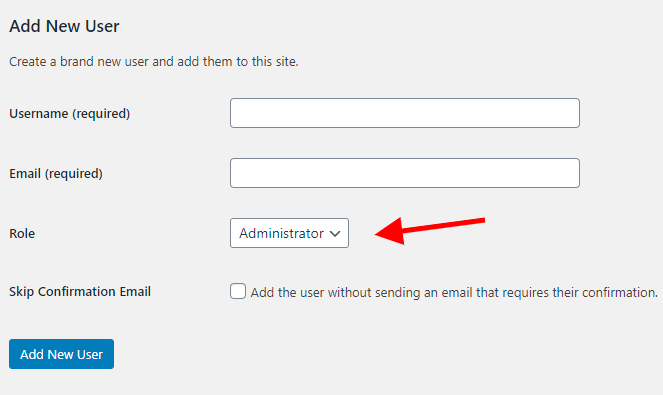 Here you'll be able to add your new user. You'll want to select their access level from the dropdown. So for instance. If you want them to have full access, as you do to update the site freely then you'll select administrator. However if you would like them to have more limited access you can choose the correct option as desired. This WordPress guide gives more clarity on access levels to allow you to choose accordingly.
Once you've completed the form click on the 'Add New User' button. The new user will then receive an email with a link that will allow them to log into the WordPress admin area with a pre generated password.
Updating User Passwords in The WordPress Admin Area
We would advise updating your password upon your first log in as a new user. This can easily be done from your user profile. There are 2 ways you can access this. Firstly by hovering over the 'User' drop down and selecting 'Profile.' Or alternatively, by clicking on your name in the top right corner of the page.
Scroll down to the section titled 'Account Management' where you'll be able to 'Set New Password'
You'll then have the ability to enter your own memorable password in the box. You'll be advised on the security of your password in the pop up below. Ensure that it's a strong password that incorporates letters, numbers and special characters.
When you're finished you can click 'Update Profile' at the bottom of the page.
Adding New WordPress Users
We hope you've been able to follow this guide and have had great success in adding your new users to your WordPress admin area. You can find more useful WordPress guides here on our website that cover a whole range of topics that you might find helpful.
If you'd like further assistance then please don't hesitate to get in touch with us via our contact form.
We've recently updated this WordPress Admin Area User Guide. It's a great tool for beginners giving you more freedom over managing the content within your site.